Elina Griniece has more than eight years of experience working in the area of research and innovation policy. She has conducted a wide range of policy studies, evaluations, impact assessments and contributed to pan-European policy monitoring platforms, such as ERAWATCH, the Trend Chart, the Regional Innovation Monitor, the Eco-Innovation Observatory and the European Cluster Observatory. Elina has been engaged in several large assignments in the area of R&I systems, including the international evaluation of Latvian research and innovation system, the development of R&D evaluation methodology and funding principles in Czech Republic and monitoring the implementation of integrated science, studies and business centres (Valleys) in Lithuania.
Her research interests include new policy approaches for tackling systemic societal challenges and novel impact assessment methods of R&I policies. In this regard, Elina has worked on the first two publications of the European Institute of Innovation and Technology (EIT) and has gained experience in assessing such new innovation policy instruments as the EIT Knowledge and Innovation Communities. She has worked on conceptualising an open innovation system's model and contributed to devising a model for socio-economic impact assessment of investment in research infrastructures.
Elina holds an interdisciplinary Master in Studies on Society, Science and Technology (STS) from Maastricht University that provides theoretical underpinnings of concepts related to systemic transitions. Her educational background includes also a Graduate Diploma in Development Studies from London School of Economic and a Bachelor degree in International Relations. Additionally, Elina has undertaken PhD level courses on Responsible Research and Innovation (Dutch Research School of Philosophy) and Innovation Policy for Transformative Change (SPRU).
As a native Latvian speaker Elina is fluent in English, has a good grasp of Russian and French and a fair understanding of German.
Happy Valentines Day !

The team at @SilversquareEU are spoiling us today 🥰
Twitter feed video.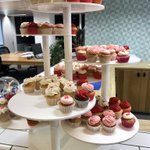 Thank you to the @EoscPortal team for featuing the @NgiTrust call on their funding opportunities page - https://t.co/93Rx7DQnVP #privacy #trust @NGI4eu