Rewilding Innovation Systems
Rewilding has been defined most eloquently and simply by George Monbiot as 'the mass restoration of ecosystems'.  A longer definition is that rewilding is a form of conservation which aims to return areas of land to their natural wild state, especially by bringing back animal species that used to live there.  Rewilding movements (such as Rewilding UK) seek to allow nature to look after itself; help people to thrive alongside wildlife; and securing the good things that nature provides for current and future generations.
In an insightful policy brief, Paul Jepson and Frans Schepers recently argued that "rewilding represents an opportunity for conservation policy to shift gear – from a Phase I focus on protecting and designating to a Phase II focus on restoration that 'up-grades' ecosystems, improves network connectivity and creates new value for people".  Work has already been done on the cross-over between environmental and innovation policies (Reid and Miedzinski, 2008). This led to the development of the concept of eco-innovation defined as "any innovation that reduces the use of natural resources and decreases the release of harmful substances across the whole life-cycle."
In line with such thinking, EFIS Centre will be launching an own-initiative project in the second half of 2016 that will seek to examine how rewilding and related natural ecosystem protection and valuation thinking can be better integrated into innovation system theory and policy.  A first Innovation System Insights workshop on this theme will be held in autumn 2016. Further details will be available on this event and our developing work under this theme from September 2016.
Have you seen the #ImpactTree from the @RI_PATHS project? The discussion on #ImpactAssessment starts now with Elina Griniece from @EfisCentre. Join us live here: https://ess-eu.zoom.us/j/63997473244?pwd=SjhXMWlMY2R3dnBVUkc2RTdiMldJUT09
or in our LinkedIn group here: https://www.linkedin.com/groups/8992845 #ENRIITCyourCoffee #ImpactPathway
Twitter feed video.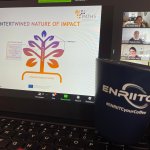 Matías Barberis @EFISCentre posits that #dystopian literature could serve as inspiration for #innovation and policymaking due to its connection to future thinking and the tool of #scenario planning: https://www.euroscientist.com/dystopian-literature-innovation-policymaking/. @mattbrami @euroscientist #Foresight
Great to see Interreg BSR project - BSR S3 Ecosystem - profiled on the S3 Platform website. Working with macro-regional partners for the last 3 years to drive collective Smart Specialisation capacity has been a pleasure and privilege! ⁦@EfisCentre⁩ https://s3platform.jrc.ec.europa.eu/-/baltic-sea-region-interregional-cooperation-on-circular-bio-economy?inheritRedirect=true