This project aims to develop an e-policy platform augmented with a toolbox of applications and online services, which will assist national and regional authorities in the EU in elaborating or revising their smart specialisation agenda, in terms of policies and strategy. The platform will leverage existing methodologies, initiatives and tools developed by the European Commission for the development of smart specialisation (RIS3) strategies, but it will also investigate, develop and test new and innovative technologies, tools and services aiming to strengthen the European capacity for knowledge-based policy advice. The platform and the accompanied services will constitute an online mechanism for policy advice, integrated with a well-defined, commonly accepted and broadly used methodology for regional policy (RIS3 Guide).
Data and sources of information to feed the platform and the services will be collected from institutional websites, RSS feeds, online databases, newsgroups and web forums, social networks data, web analytics, content management systems, measurement scoreboards, focus groups, and other online mechanisms for collaboration and policy co-design, and assessment. Taken together, these elements and architecture of integration will offer online all the necessary tools, methods, and roadmap to assist the elaboration, implementation, and impact analysis of smart specialisation policies.
We at EFIS Centre are delighted to be part of the consortium delivering the @EUScienceInnov Policy Support Facility, several of our team were involved in the first round advising, e.g. @LithuanianGovt and @armgov to review their research & innovation policies.
A great #EUInnovation Scoreboard 2021 is planned for June❗️👉@EuScienceInnov ➕@EU_Growth ➕🇪🇺 countries are working 🤝on a report:

🔵sharply tuned to the fast ⏩changing times
🟢with more on the twin ♻️💻transitions
Twitter feed video.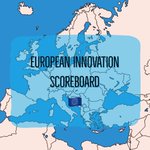 @rarjonaEU @EUScienceInnov @EU_Growth @JEPaquetEU @JornaKerstin @isidrolaso @UNUMERIT @JMateosGarcia @JeanDavidMALO1 @MaiveRute @LuizaMHenriques @JGuerrier_EU Very pleased to have contributed with colleagues from @EfisCentre and @UNUMERIT to work scoping the inclusion of new #EIS indicators capturing the contribution of research and #innovation through #ecoinnovation to long-term sustainability in line with the #greendeal