The NGI_Trust project aims to support the development of a human-centric Internet. by developing a stronger European ecosystem of researchers, innovators and technology developers in the field of privacy and trust enhancing technologies.  NGI_TRUST will run two rounds of open calls in order to select and providing financial support to the best projects submitted by third parties in a competitive manner. 
The project has four overall objectives:
Reinforce, structure and develop the community of researchers, innovators and technology developers in the field of privacy and trust enhancing technologies

Build on the state of the art in privacy and trust enhancing technologies by focusing support for third-party prheir personal data, attributes and information

Improve user trust and acceptance of emerging technologies by focusing on applications and solutions that develop a more open, robust and dependable Internet and strengthen Internet Governance

Foster the exploitation and commercialisation of the results of selected third-party projects through a tailored process of coaching and mentoring.
The NGI_Trust project will use the open calls approach to engage, in parallel, with different players, working at various technology readiness levels (TRL), to explore topics that are critical to build the NGI; and are also a core expertise of the consortium partners.  The project will be supported by an advisory board of experts with proven expertise in privacy and regulations, security, identity management, encryption, network protocols, IoT and distributed ledgers (i.e. blockchain).  During the proposal preparation work has been done with the advisory board to prepare the call topics.  The consortium provides an ideal mix of expertise in management of research and innovation policies, technical expertise in the domain, business coaching and mentoring of Internet technology firms.  We aim to use the available funds from the call to leverage additional matching funds.
What's missing and where could NGI do better? 🤔
Join the discussion on the next steps of the #NextGenerationInternet initiative.

#Haveyoursay on the main themes and take part in the @EU_Commission open workshop on 📅 18 November at 9:00 CET.
More ℹ️ https://bit.ly/3C1pUu2
Twitter feed video.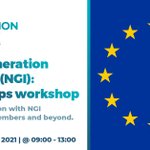 Nice to see the results of our @RI_PATHS project in action #measures #impact #SSHA21
"The path from input to impact is a very complex one"
- Johan Hanssens, @Departement_EWI #SSHA21
Twitter feed video.