Friends of Smart Specialisation
The Friends of Smart Specialisation (FoSS) is a group of independent innovation policy experts, set up in Brussels in 2018. The group's goal is to support the mainstreaming of smart specialisation as an instrument for strengthening the multi-level European innovation system. Smart Specialisation can play a coordinating role in European policy development in aligning innovation and transformation policies at different levels (regional, national, European). Smart Specialisation can, in particular, support the development of a common reference framework for aligning forces to tackle common challenges and opportunities. The group have produced a mission statement that gives an overview of the group's thinking on smart specialisation.
Policy Workshops
FoSS have organised three policy workshops since December 2018.
Brussels (Helsinki Office, December 2018)
The first workshop indicated an interest of the participants in examining in more depth the potential of smart specialisation in different domains.
Leuven (KU Leuven, April 2019): on the role of lead-cities. Report Leuven
Brussels (Flemish government June 2019): on the role of clusters and employment policies. Report Brussels
Following these three policy workshops, In October 2019, FoSS produced a policy paper Mainstreaming Smart Specialisation. This policy paper is a contribution to policy thinking on the future of our European innovation system. Our proposition is that Smart Specialisation can play a leading role in European policy development for transformation.
Smart Regions Conference November 2019
FoSS gave a presentation at the Smart Regions 3.0 conference on 15 November 2019. The presentation can be found here.
Green Deal
FoSS have also published a paper on the role of smart specialisation in supporting the Green Deal, ensuring co-investment at all levels and improved multi-level governance drawing on lessons learned from the Lisbon Strategy. The version of the policy paper completed in February 2020 (version 4) can be found here.
New Industrial Strategy
FoSS followed up on their Green Deal discussion paper with a shorter critique of the New Industrial Strategy Communication COM(2020)102 final. This paper also points out the lack of a place-based approach in this new Communication and argues that a stronger multilevel governance approach involving smart specialisation is needed for a future EU industrial strategy with real impact. The paper can be found here.
FoSS has also contributed to a stakeholder consultation for a future Committee of the Regions opinion on the new Industrial Strategy in May 2020. Our contribution can be found here.
Post-COVID19
FoSS believe that now, as post-COVID19 recovery plans are emerging, it is important to stress two key points.
the crucial role of place-based innovation in restructuring global value chains for more social and economic resilience;
a stronger focus on improved multi-level governance to align investments with both a top-down directionality for common European objectives and a bottom-up discovery process of opportunities for all regions
This 'call for action' document is a further step in an ongoing reflection on the role of a reinvigorated smart specialisation approach in European-level policies for transformation, with new sustainable smart specialisation strategies and interregional cooperation exploiting 'smart complementarities'.
Collaborative activities
FoSS look forward to collaborating with colleagues interested in the future potential of the smart specialisation approach, and to have contacts with various European projects where this can be demonstrated. We already participated at a number of workshops and have contributed recently an article on boosting the Green Deal to the LARS Baltic Sea Interreg project see https://www.lars-project.eu/home/
FoSS presentations at Committee of the Regions and ERRIN event 22nd June 2020
This webinar was organised by FoSS along with the SEDEC Commission of the Committee of the Regions and ERRIN.which examined  the role of smart specialisation in economic recovery strategies post-COVID19 at the local and regional level. FoSS was also instrumental in inviting Orkestra the Basque Institute of Competitiveness.
FoSS have pointed out in previous papers on the Green Deal and the new Industrial Strategy that neither the Green Deal nor the Industrial Strategy nor the Recovery and Resilience Facility pay much, if any, attention to the role of regions and the three policies ignore the role of regional innovation ecosystems and place-based smart specialisation strategies. The documents also tend to concentrate on the 'what' while neglecting the importance of multilevel governance for the implementation of strategies on the ground. The presentations can be found below and thanks to ERRIN for hosting the webinar in a professional manner.
For more information you may wish to contact:
Dimitri Corpakis ([email protected]),
Jan Larosse ([email protected]),
Richard Tuffs ([email protected])
What's missing and where could NGI do better? 🤔
Join the discussion on the next steps of the #NextGenerationInternet initiative.

#Haveyoursay on the main themes and take part in the @EU_Commission open workshop on 📅 18 November at 9:00 CET.
More ℹ️ https://bit.ly/3C1pUu2
Twitter feed video.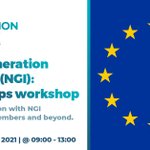 Nice to see the results of our @RI_PATHS project in action #measures #impact #SSHA21
"The path from input to impact is a very complex one"
- Johan Hanssens, @Departement_EWI #SSHA21
Twitter feed video.