European Innovation Scoreboard
This project was commissioned by the European Commission's DG Internal Market, Industry, Entrepreneurship and SMEs. The goal is to improve the European Innovation Scoreboard (EIS) and the Regional Innovation Scoreboard (RIS), as the main measurement and benchmarking tools for innovation performance of the EU, its member states, and regions. More specifically, the project will result in further methodological development of the Scoreboards as well as producing the 2018 and 2019 editions of the EIS, and the 2019 edition of the RIS. The project started in October 2017 and runs until May 2020. EFIS Centre is in a consortium led by MERIT (Maastricht University, the Netherlands) with Deloitte (Belgium), Nesta (United Kingdom), and Sociedade Portuguesa de Inovação (SPI, Portugal).
EFIS Centre is task leader for a methodological report that will develop recommendations on how to better contextualise differences in national and regional performance (EIS and the RIS) through a selected set of structural indicators. A second element of the work will involve the development of operational guidance on how to appraise linkages (using a theory of change or impact pathways approach) between policy developments and innovation performance as measured by the EIS/RIS. The recommendations on the former will be published as the Exploratory Report, and on the latter as the Technical Note. While there were already structural indicators used to explain specificities of different countries and regions in the EIS and RIS 2017, the work in this project will result in a more elaborated analysis in the future. The outputs of both reports will be discussed at a workshop. This part of the project is done as part of a joint team with staff from MERIT.
What's missing and where could NGI do better? 🤔
Join the discussion on the next steps of the #NextGenerationInternet initiative.

#Haveyoursay on the main themes and take part in the @EU_Commission open workshop on 📅 18 November at 9:00 CET.
More ℹ️ https://bit.ly/3C1pUu2
Twitter feed video.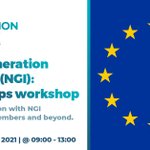 Nice to see the results of our @RI_PATHS project in action #measures #impact #SSHA21
"The path from input to impact is a very complex one"
- Johan Hanssens, @Departement_EWI #SSHA21
Twitter feed video.