Lorena has over 10 years experience working as researcher, policy analyst and consultant in the field of research and innovation policy. She has worked for international organisations including various European Commission DGs, UNESCO, the OECD and the Inter-American Development Bank. She has been involved in several European Commission-funded projects, such as the Innovation Union Scoreboard between 2011 and 2015, the European Cluster Observatory, and the European Service Innovation Centre.
In the last years, Lorena has specialised and focused her interest in the intersection of regional policy, industrial policy and enterprise and cluster policy. Lorena has worked for EU regions in several ways, through impact assessments and evaluations, and providing policy intelligence and technical assistance for specific sectors. Lorena was part of the team consulting DG Regional Policy and the Vanguard regions in setting up their structures for a thematic smart specialisation platform on Advanced Manufacturing. She was project leader on the design of a Technology Roadmap for Advanced Manufacturing (ADMA) for energy applications in harsh environments, and provided technical assistance to the Vanguard Initiative in how to set-up structures for industrial matchmaking and brokerage. In addition, Lorena was the project leader of the in-depth mapping exercise in the field of ADMA for energy applications for the Vanguard Initiative.
In relation to industries and specific sectors, Lorena has a track consulting in projects involving the Blue Growth Industries, the forest-based industries, the packaging industry and the agri-food sector, often providing value chain and competitiveness analyses.
In the field of innovation metrics, Lorena is the author of special chapters of the use of EU funding in regions in the Regional Innovation Scoreboard 2012 and 2014. She was also the team leader in the design and development of the Regional Ecosystems Scoreboard of the European Cluster Observatory.
As a researcher, Lorena has worked and published her findings in peer reviewed journals in the field of the economics of science. She has developed an econometric framework to understand gender productivity gaps in science; and proposed alternative bibliometric indicators to measure the impact of the international mobility of researchers.
Lorena is currently finalising her PhD in Economics and Policy studies of Technical Change at UNU-MERIT in the Netherlands. She received her MA jointly from the Department of Economics, University of British Columbia, Canada and the Université Pierre-Mendès-France. A native Spanish speaker, Lorena is also fluent in English and French.
What's missing and where could NGI do better? 🤔
Join the discussion on the next steps of the #NextGenerationInternet initiative.

#Haveyoursay on the main themes and take part in the @EU_Commission open workshop on 📅 18 November at 9:00 CET.
More ℹ️ https://bit.ly/3C1pUu2
Twitter feed video.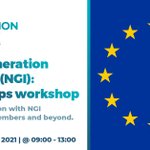 Nice to see the results of our @RI_PATHS project in action #measures #impact #SSHA21
"The path from input to impact is a very complex one"
- Johan Hanssens, @Departement_EWI #SSHA21
Twitter feed video.