Henry Varga, a Swedish national, has over 15 years of experience evaluating and advising on public business, research and innovation policies and systems at local, regional, inter-regional, national and at European level and has authored numerous reports in the field. He has managed, coordinated and participated in a number of EU funded projects and supervised European network activities. Since 2013, Henry has been focusing on economic development and innovation, eco-innovation and circular economy.
At the European Commission (DG for Research) he contributed to the analysis, development and implementation of policies aimed at increasing the level of investment in research to 3% of GDP across the EU; and supported the work to evaluate the Swedish research, development and innovation policies. During his time at Technopolis Group Belgium (2005-2006), he contributed to the Swedish Country Report on Strategic Evaluation on Innovation and the Knowledge Based Economy in relation to the Structural and Cohesion Funds, for the programming period 2007-2013 and analysed research polices in general. Working as a policy advisor for COCERAL in 2012, he evaluated the proposal for a new EU Market in Financial Instruments Directive (MiFID) and its potential impact on members' business and prepared position papers for the malting industry in on-going Free Trade Agreements negotiations between the EU and third-party countries. In 2012 he analysed the Slovak Draft National Strategic Reference Framework and the Slovak Draft Strategic Report at the European Commission (DG for Regional and Urban Policy). While living in the UK, he advised Solihull Metropolitan Borough Council on their economic growth and innovation strategy. Together with Alasdair Reid, Henry evaluated the Nordic Cooperation Programme for business & innovation for the Nordic Council of Ministers (2016). He was a member of the team for a number of Horizon 2020 funded projects: Online S3 (www.onlineS3.eu) aimed at developing an online platform of tools to support smart specialisation strategy (S3) design and implementation; and European e-infrastructure Services Gateway (www.eInfraCentral.eu) where he also was an interim project manager. In 2018, Henry was invited as an external expert at the CIRC4Life Innovation Camp 2018 (H2020 funded project) on Circular Business Models (CBM). During 2019-2020 he worked as an EU project coordinator ay the Technical University of Delft, supporting the successful implementation of Horizon 2020 funded projects.
Henry has also given presentations in the field of circular economy and sustainability: on CBM to a group of master's degree students from the USA (Crafting A Strategy), and on sustainability and waste management at the International School of Delft (www.internationalschooldelft.com) as part of the Eco-Schools programme (www.ecoschools.global) to promote positive change of behaviour regarding sustainability.
In recent years, Henry has followed training in the field of Industrial Ecology, circular economy and smart specialisation, at Delft University of Technology (TU Delft), Wageningen University, the University College London (UCL) and the École Polytechnique Fédérale de Lausanne / BAK Basel.
Henry has published a series of reports and articles, including six Eco-innovation country reports (2014, 2016, 2018 and 2020) for the European Commission and two articles in peer reviewed journals in the field of smart specialisation (RIS3). For a full list of publication see: www.linkedin.com/in/henryvarga.
Besides his mother tongue Swedish, Henry is fluent in English, German and Slovak and has good understanding of Dutch and basic French.
What's missing and where could NGI do better? 🤔
Join the discussion on the next steps of the #NextGenerationInternet initiative.

#Haveyoursay on the main themes and take part in the @EU_Commission open workshop on 📅 18 November at 9:00 CET.
More ℹ️ https://bit.ly/3C1pUu2
Twitter feed video.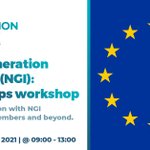 Nice to see the results of our @RI_PATHS project in action #measures #impact #SSHA21
"The path from input to impact is a very complex one"
- Johan Hanssens, @Departement_EWI #SSHA21
Twitter feed video.