Carmela Asero has more than 10 years' experience in the area of Research Infrastructures, Open Science and Digital Single Market policies and programmes. She is currently managing the EOSC Enhance project for EFIS Centre.
Within the European Open Science Cloud team at the European Commission's DG RTD in 2016-2017, Carmela had a key role in shaping the European Open Science Cloud and in the definition of the implementing actions in support of the EOSC governance. Previously she held the role of policy analyst for Digital Single Market and Space Policy at  the European Commission's Joint Research Centre.
Carmela holds a unique set of expertise in digital agenda policies with  special focus on cloud and big data. Between 2008 and 2011, she was scientific project officer at the European Commission's DG Connect in the e-Infrastructures unit where she managed a large number of project in different scientific domains. Carmela has been working in the area of policy, strategy and implementing activities in different EU projects on cloud computing (alongside organizations such as CERN, Cloud Security Alliance, EMBL and The EGI Foundation) and in  other ICT domains like digital media and telecommunications. She holds an BA Hons in Economics, an MA in Diplomatic  Studies and a MSc in e-Business. She is fluent in Italian, English and French and basic user in Spanish and Japanese.
What's missing and where could NGI do better? 🤔
Join the discussion on the next steps of the #NextGenerationInternet initiative.

#Haveyoursay on the main themes and take part in the @EU_Commission open workshop on 📅 18 November at 9:00 CET.
More ℹ️ https://bit.ly/3C1pUu2
Twitter feed video.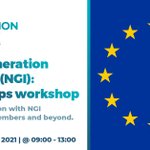 Nice to see the results of our @RI_PATHS project in action #measures #impact #SSHA21
"The path from input to impact is a very complex one"
- Johan Hanssens, @Departement_EWI #SSHA21
Twitter feed video.