Dr. Bernard Musyck is the managing director of the EFIS Centre ASBL. He is a Regional Economist and holds a PhD in economics from the University of Sussex (United Kingdom) and a Master's degree in the same field from the Université Catholique de Louvain (Belgium). He is also Associate Professor at the School of Economic Sciences and Administration, Frederick University, Nicosia, Cyprus.
Bernard has more than 15 years experience in academia and consultancy work on regional development and innovation across Europe. He has participated in a range of advisory projects including regional innovation strategies, evaluations of Structural Fund programmes and the monitoring of innovation policy frameworks. In Cyprus, he has been involved in projects in the field of tourism and innovation policies, including the latest initiatives concerning smart specialisation strategies. Bernard is fluent in English, French, Dutch and German and can converse in Greek.
Have you seen the #ImpactTree from the @RI_PATHS project? The discussion on #ImpactAssessment starts now with Elina Griniece from @EfisCentre. Join us live here: https://ess-eu.zoom.us/j/63997473244?pwd=SjhXMWlMY2R3dnBVUkc2RTdiMldJUT09
or in our LinkedIn group here: https://www.linkedin.com/groups/8992845 #ENRIITCyourCoffee #ImpactPathway
Twitter feed video.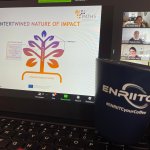 Matías Barberis @EFISCentre posits that #dystopian literature could serve as inspiration for #innovation and policymaking due to its connection to future thinking and the tool of #scenario planning: https://www.euroscientist.com/dystopian-literature-innovation-policymaking/. @mattbrami @euroscientist #Foresight
Great to see Interreg BSR project - BSR S3 Ecosystem - profiled on the S3 Platform website. Working with macro-regional partners for the last 3 years to drive collective Smart Specialisation capacity has been a pleasure and privilege! ⁦@EfisCentre⁩ https://s3platform.jrc.ec.europa.eu/-/baltic-sea-region-interregional-cooperation-on-circular-bio-economy?inheritRedirect=true