Alison Hunter is a Director and joint owner of a consultancy business – Economic and Public Policy Consultancy (EPPC). Based in Brussels for the last 10 years, she has over 17 years of consultancy experience, delivering public policy, research and analysis assignments for clients in Brussels and UK settings. Alison's areas of expertise are EU regional policy (including regional innovation and Smart Specialisation), economic development, clusters and industrial growth. She is an experienced moderator, working with EU institutional partners and regional stakeholders, and covering event design, delivery and reporting. Alison also delivers senior capacity building support and advice on EU engagement to multiple stakeholders, and has significant experience is developing large-scale projects.
Alison is highly experienced in working with EU institutions, including a range of Commission services in the areas of Regional Policy, Research & Innovation and Maritime Affairs & Fisheries. She is also a Senior Adviser with a leading Brussels think-tank, the European Policy Centre, focusing on regional, innovation and industrial policy.
Have you seen the #ImpactTree from the @RI_PATHS project? The discussion on #ImpactAssessment starts now with Elina Griniece from @EfisCentre. Join us live here: https://ess-eu.zoom.us/j/63997473244?pwd=SjhXMWlMY2R3dnBVUkc2RTdiMldJUT09
or in our LinkedIn group here: https://www.linkedin.com/groups/8992845 #ENRIITCyourCoffee #ImpactPathway
Twitter feed video.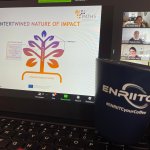 Matías Barberis @EFISCentre posits that #dystopian literature could serve as inspiration for #innovation and policymaking due to its connection to future thinking and the tool of #scenario planning: https://www.euroscientist.com/dystopian-literature-innovation-policymaking/. @mattbrami @euroscientist #Foresight
Great to see Interreg BSR project - BSR S3 Ecosystem - profiled on the S3 Platform website. Working with macro-regional partners for the last 3 years to drive collective Smart Specialisation capacity has been a pleasure and privilege! ⁦@EfisCentre⁩ https://s3platform.jrc.ec.europa.eu/-/baltic-sea-region-interregional-cooperation-on-circular-bio-economy?inheritRedirect=true