Alison Hunter is a Director and joint owner of a consultancy business – Economic and Public Policy Consultancy (EPPC). Based in Brussels for the last 10 years, she has over 17 years of consultancy experience, delivering public policy, research and analysis assignments for clients in Brussels and UK settings. Alison's areas of expertise are EU regional policy (including regional innovation and Smart Specialisation), economic development, clusters and industrial growth. She is an experienced moderator, working with EU institutional partners and regional stakeholders, and covering event design, delivery and reporting. Alison also delivers senior capacity building support and advice on EU engagement to multiple stakeholders, and has significant experience is developing large-scale projects.
Alison is highly experienced in working with EU institutions, including a range of Commission services in the areas of Regional Policy, Research & Innovation and Maritime Affairs & Fisheries. She is also a Senior Adviser with a leading Brussels think-tank, the European Policy Centre, focusing on regional, innovation and industrial policy.
What's missing and where could NGI do better? 🤔
Join the discussion on the next steps of the #NextGenerationInternet initiative.

#Haveyoursay on the main themes and take part in the @EU_Commission open workshop on 📅 18 November at 9:00 CET.
More ℹ️ https://bit.ly/3C1pUu2
Twitter feed video.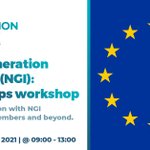 Nice to see the results of our @RI_PATHS project in action #measures #impact #SSHA21
"The path from input to impact is a very complex one"
- Johan Hanssens, @Departement_EWI #SSHA21
Twitter feed video.