Alessandro Muscio is Associate Professor in Applied Economics at the University of Foggia (Italy). He holds a Ph.D. in Economics of Production and Development from Insubria University (Italy) and a Master's degree in Development Economics from the University of Sussex (UK). He was Marie Curie Fellow in Science & Technology Policy Studies at SPRU – University of Sussex.
Alessandro worked as Science & Technology Policy Specialist at Technopolis Group, UK Office. As part of his work at Technopolis Group, He was involved in several studies in the area of science and industry policy evaluation, commissioned by the European Commission and national government agencies.
As part of his academic activity, Alessandro published several articles on international scientific journals and is often involved in the preparation of research and innovation policy reports. The majority of Alessandro's research work is in the area of research and innovation, technology transfer and regional innovation policy. He coordinated a research project on the Governance of Technology Transfer, funded by the Italian Ministry of University (MIUR). He wrote papers published in international journals on the assessment of Framework Programmes, on the evaluation of technology transfer from academia and on SMEs and industrial districts.
As part of his recent consultant activity Alessandro prepared several regional case studies to assess the implementation of initiatives funded by the ERDF and the RPIA, and carried out extensive evaluations of the governance and the effects of innovation policy as part of the DG-Enterprise & Industry Regional Innovation Monitor (RIM Plus).
What's missing and where could NGI do better? 🤔
Join the discussion on the next steps of the #NextGenerationInternet initiative.

#Haveyoursay on the main themes and take part in the @EU_Commission open workshop on 📅 18 November at 9:00 CET.
More ℹ️ https://bit.ly/3C1pUu2
Twitter feed video.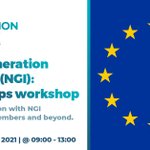 Nice to see the results of our @RI_PATHS project in action #measures #impact #SSHA21
"The path from input to impact is a very complex one"
- Johan Hanssens, @Departement_EWI #SSHA21
Twitter feed video.