Principal Researcher – Policy Director
Alasdair Reid has over 25 years experience of advising governments in developing, implementing and evaluating innovation based regional, inter-regional, national and European development programmes and strategies. He has worked on public policy research in the fields of regional economic development and innovation systems. He has advised the European Commission, the OECD, the World Bank, the Nordic Council of Ministers, national and regional governments and agencies throughout the European Union and in third countries.
He has worked extensively in the field of research infrastructures, including as co-director of a four-year assistance project to Lithuania (2011-14) to supervise over EUR 350m of EU Structural Fund co-financed investments in research and innovation infrastructure. He also contributed to the strategic audit of the Belgian Federal Public Science Service (BELSPO) in 2016. He is project co-ordinator for the Horizon 2020 funded projects European e-infrastructure Services Gateway (www.eInfraCentral.eu) and RI-PATHS (www.ri-paths.eu). He is (first semester 2019) a member of the ESFRI ad hoc working group on key performance indicators for research infrastructures.
Alasdair has been actively involved in analysing regional innovation systems since the mid-1990s from the first round of regional technology plans, regional innovation strategies and most recently as an advisor for smart specialisation strategies for the 2014-20 European Structural and Investment Fund period. He was a member of the project team for the Horizon 2020 funded project Online S3 (www.onlineS3.eu) aimed at developing an online platform of tools to support smart specialisation strategy design and implementation. A related stream of activity is on mapping and supporting the emergence of inter-regional value chains and thematic platforms including in the field of offshore (marine) technologies and blue growth, agro-food traceability and big data and Industry 4.0. Alasdair is also a member of the RECONFIRM initiative expert team (2017-18) supporting European regions and clusters in developing strategic co-operation in the field of advanced manufacturing.
Alasdair has evaluated and advising innovation agencies including the evaluation of Nordic Innovation (2015), a service innovation strategy for Invest Northern Ireland (2014), international mentor to Enterprise Estonia (2015) and a study on the impact of Tekes (Finland) on the global competitiveness of Finnish business (2015-16). In the field of cluster policy, Alasdair has led the evaluation of European Cluster policy (2014), provided strategic analysis to support Scottish Enterprise (Scotland's Innovation Proposition, 2015 and Scottish Clusters Mapping 2016), a cluster and value chain mapping for Highlands & Islands Enterprise (Scotland) (first semester 2017) and a peer review of the Basque Country's cluster policy (spring 2017).
Alasdair has published a series of articles in peer reviewed journals and book chapters on regional development and innovation policies and the contribution of innovation to economic growth, his published works are available at: www.researchgate.net/profile/Alasdair_Reid. A selection of Alasdair's speeches can be viewed at: www.slideshare.net/Alasdair_Innovation. Alasdair is fluently bilingual (English, French) and speaks basic Spanish and Estonian.
What's missing and where could NGI do better? 🤔
Join the discussion on the next steps of the #NextGenerationInternet initiative.

#Haveyoursay on the main themes and take part in the @EU_Commission open workshop on 📅 18 November at 9:00 CET.
More ℹ️ https://bit.ly/3C1pUu2
Twitter feed video.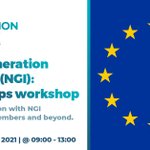 Nice to see the results of our @RI_PATHS project in action #measures #impact #SSHA21
"The path from input to impact is a very complex one"
- Johan Hanssens, @Departement_EWI #SSHA21
Twitter feed video.