Dr. Bernard Musyck
Managing Director
EFIS
Alison Hunter
Board Member
EFIS
Alessandro Muscio
Board Member
EFIS
Full- or part time researchers
Competitive salary and flexible working conditions
–
The European Future Innovation System Centre is a policy think tank and research centre established in the university town of Louvain-la-Neuve. Our operational  office is in the heart of the European Quarter of Brussels.
We welcome interest from qualified individuals to join our team as full or part-time researchers or as associate researchers (working with us on a project basis or in developing specific lines of research).
Candidates should have at least a Master degree (holders of a PhD or individuals currently undertaking doctoral studies will be given a preference) in regional development, science and technology and innovation studies or related fields. You should have a minimum of three year experience in either economic policy, research and innovation policy (including smart specialisation, open science, etc.) or in sectoral technology policies (environmental, health, etc.).
Proven skills and experience in qualitative (literature review, interviews, text mining, etc.) and quantitative methods (statistical methods, text mining, web and data analytics) and or visualisation tools will be a plus.  Fluency in English is a minimum requirement, additional languages are a plus.
The Centre is an equal opportunities employer and is open to flexible working arrangements. Candidates for staff researchers should be EU citizens or eligible for a work visa in a EU Member State.
Candidates may submit an up to date CV (Europass format preferably) and motivation letter to 
[email protected]
.
–
We are looking forward to next week's #OSFAIR2021, where the #EOSCEnhance team will give demonstrations on how to use the #EOSC Portal!
Learn how to register as a provider and how to onboard your resources into the Portal: https://bit.ly/3A7jI2x
#OpenScience #H2020 #HorizonEU
Twitter feed video.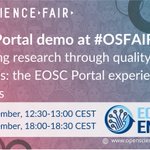 We need more guidance from national funders about what national funders expect from #research #infrastructures in terms of #impacts
Excellent point! Concluding the @ESFRI_eu conference "Stay tuned to the future. Impact of research infrastructures 2.0".
We are currently evaluating with our partners @dialogic_nl the @belspo @BelgianEO STEREO III programme and if you are working on or interested in earth observation in Belgium (or partnering with Belgian organisations on this topic) please complete the survey !!