Future innovation systems
–
We support partnerships of governmental, societal (not for profit) and business organisations working to identify future technology and societal trends that are likely to challenge the way our economies and societies function.
We at EFIS Centre are delighted to be part of the consortium delivering the @EUScienceInnov Policy Support Facility, several of our team were involved in the first round advising, e.g. @LithuanianGovt and @armgov to review their research & innovation policies.
A great #EUInnovation Scoreboard 2021 is planned for June❗️👉@EuScienceInnov ➕@EU_Growth ➕🇪🇺 countries are working 🤝on a report:

🔵sharply tuned to the fast ⏩changing times
🟢with more on the twin ♻️💻transitions
Twitter feed video.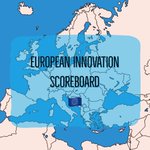 @rarjonaEU @EUScienceInnov @EU_Growth @JEPaquetEU @JornaKerstin @isidrolaso @UNUMERIT @JMateosGarcia @JeanDavidMALO1 @MaiveRute @LuizaMHenriques @JGuerrier_EU Very pleased to have contributed with colleagues from @EfisCentre and @UNUMERIT to work scoping the inclusion of new #EIS indicators capturing the contribution of research and #innovation through #ecoinnovation to long-term sustainability in line with the #greendeal