Charting a course for innovation systems
–
We seek to improve the understanding of how innovation happens in our economy and society and how it can help enhance quality of life while avoiding undue pressure on finite natural resources and ecosystems that sustain life.
Current projects:
Enhancing the efficiency of the cooperation between business and science in Lithuania (DG REFORM, Structural Reform Service)
Past projects:
Have you seen the #ImpactTree from the @RI_PATHS project? The discussion on #ImpactAssessment starts now with Elina Griniece from @EfisCentre. Join us live here: https://ess-eu.zoom.us/j/63997473244?pwd=SjhXMWlMY2R3dnBVUkc2RTdiMldJUT09
or in our LinkedIn group here: https://www.linkedin.com/groups/8992845 #ENRIITCyourCoffee #ImpactPathway
Twitter feed video.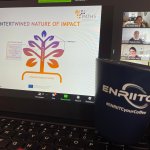 Matías Barberis @EFISCentre posits that #dystopian literature could serve as inspiration for #innovation and policymaking due to its connection to future thinking and the tool of #scenario planning: https://www.euroscientist.com/dystopian-literature-innovation-policymaking/. @mattbrami @euroscientist #Foresight
Great to see Interreg BSR project - BSR S3 Ecosystem - profiled on the S3 Platform website. Working with macro-regional partners for the last 3 years to drive collective Smart Specialisation capacity has been a pleasure and privilege! ⁦@EfisCentre⁩ https://s3platform.jrc.ec.europa.eu/-/baltic-sea-region-interregional-cooperation-on-circular-bio-economy?inheritRedirect=true