Charting a course for innovation systems
–
We seek to improve the understanding of how innovation happens in our economy and society and how it can help enhance quality of life while avoiding undue pressure on finite natural resources and ecosystems that sustain life.
Current projects:
Enhancing the efficiency of the cooperation between business and science in Lithuania (DG REFORM, Structural Reform Service)
Past projects:
What's missing and where could NGI do better? 🤔
Join the discussion on the next steps of the #NextGenerationInternet initiative.

#Haveyoursay on the main themes and take part in the @EU_Commission open workshop on 📅 18 November at 9:00 CET.
More ℹ️ https://bit.ly/3C1pUu2
Twitter feed video.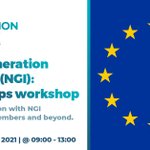 Nice to see the results of our @RI_PATHS project in action #measures #impact #SSHA21
"The path from input to impact is a very complex one"
- Johan Hanssens, @Departement_EWI #SSHA21
Twitter feed video.