Building digital innovation systems
–
We work with a range of partners to develop digital platforms and apps that support the inter-connection and performance of organisations in European, national, regional and sectoral innovation systems.
Have you seen the #ImpactTree from the @RI_PATHS project? The discussion on #ImpactAssessment starts now with Elina Griniece from @EfisCentre. Join us live here: https://ess-eu.zoom.us/j/63997473244?pwd=SjhXMWlMY2R3dnBVUkc2RTdiMldJUT09
or in our LinkedIn group here: https://www.linkedin.com/groups/8992845 #ENRIITCyourCoffee #ImpactPathway
Twitter feed video.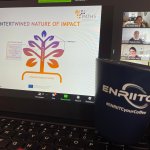 Matías Barberis @EFISCentre posits that #dystopian literature could serve as inspiration for #innovation and policymaking due to its connection to future thinking and the tool of #scenario planning: https://www.euroscientist.com/dystopian-literature-innovation-policymaking/. @mattbrami @euroscientist #Foresight
Great to see Interreg BSR project - BSR S3 Ecosystem - profiled on the S3 Platform website. Working with macro-regional partners for the last 3 years to drive collective Smart Specialisation capacity has been a pleasure and privilege! ⁦@EfisCentre⁩ https://s3platform.jrc.ec.europa.eu/-/baltic-sea-region-interregional-cooperation-on-circular-bio-economy?inheritRedirect=true