Building digital innovation systems
–
We work with a range of partners to develop digital platforms and apps that support the inter-connection and performance of organisations in European, national, regional and sectoral innovation systems.
We at EFIS Centre are delighted to be part of the consortium delivering the @EUScienceInnov Policy Support Facility, several of our team were involved in the first round advising, e.g. @LithuanianGovt and @armgov to review their research & innovation policies.
A great #EUInnovation Scoreboard 2021 is planned for June❗️👉@EuScienceInnov ➕@EU_Growth ➕🇪🇺 countries are working 🤝on a report:

🔵sharply tuned to the fast ⏩changing times
🟢with more on the twin ♻️💻transitions
Twitter feed video.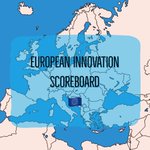 @rarjonaEU @EUScienceInnov @EU_Growth @JEPaquetEU @JornaKerstin @isidrolaso @UNUMERIT @JMateosGarcia @JeanDavidMALO1 @MaiveRute @LuizaMHenriques @JGuerrier_EU Very pleased to have contributed with colleagues from @EfisCentre and @UNUMERIT to work scoping the inclusion of new #EIS indicators capturing the contribution of research and #innovation through #ecoinnovation to long-term sustainability in line with the #greendeal