We are looking forward to next week's #OSFAIR2021, where the #EOSCEnhance team will give demonstrations on how to use the #EOSC Portal!
Learn how to register as a provider and how to onboard your resources into the Portal: https://bit.ly/3A7jI2x
#OpenScience #H2020 #HorizonEU
Twitter feed video.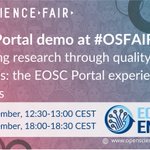 We need more guidance from national funders about what national funders expect from #research #infrastructures in terms of #impacts
Excellent point! Concluding the @ESFRI_eu conference "Stay tuned to the future. Impact of research infrastructures 2.0".
We are currently evaluating with our partners @dialogic_nl the @belspo @BelgianEO STEREO III programme and if you are working on or interested in earth observation in Belgium (or partnering with Belgian organisations on this topic) please complete the survey !!