Dr Jelena Angelis is Research Director at EFIS Centre with more than 17 years of experience in the field of evaluation and research and innovation policy formation. She was involved in the design of programmes using national and EU funds; evaluation of such programmes and policies; hands-on activities in setting up needed functions; monitoring of the use of funding; and impact assessments. She has been engaged in several large assignments in the area of R&I systems, including the international evaluation of Latvian research and innovation system; the development of a methodology for a research assessment exercise in Lithuania; the development of R&D evaluation methodology and funding principles in Czech Republic and monitoring the implementation of integrated science, studies and business centres (Valleys) in Lithuania.
Over the last seven years Jelena's interest focused more on the topic of Research Infrastructures, their value and impact to the society and the innovation system. In addition to a number of evaluations and impact assessments of Research Infrastructures or RI-linked programmes, Jelena is a member of the EU High-Level Expert Group to assess the progress of ESFRI and other world class Research Infrastructures towards implementation and long-term sustainability. She part of the EFIS team that lead the H2020 funded project RI-PATHS that aims to develop a comprehensive and modular impact assessment framework for a broad range of research infrastructures. In 2015-2018, she was a member of the OECD Expert Group on socio-economic impacts of RIs.
In addition to the policy work, Jelena brings a breadth of hands-on innovation experience. She is currently mentoring a technology transfer office at the Vytautas Magnus University in Lithuania in setting and moving forward processes to ensure successful science-business cooperation and technology transfer from research results. As part of the EU4TechWestern Balkans capacity building project, she is working with INNOFEIT – the Centre for Technology Transfer and Innovations at the he Faculty of Electrical Engineering and Information Technologies (FEEIT), as a part of the Ss. Cyril and Methodius University in Skopje (Republic of Macedonia). During her time at Oxford Innovation Jelena was part of the in-house team helping entrepreneurs structure their investment pitches at investment meetings with business angels. She was also part of the team delivering Innovation Advisory Service in the East of England promoting and using open innovation in assisting businesses in developing and implementing innovation strategies as part of cultural change, which increases their capacity and capability to innovate. She is one of the business advisors under the Global Lithuanian Leaders programme focusing on supporting young innovative Lithuanian companies to grow globally; and is assessing funding applications from innovative SMEs to H2020 SME Instrument programme as well as Swedish innovation agency's (Vinnova) programmes.
Jelena has international project experience, having worked on projects for such clients as the International Finance Corporation, OECD, European Commission, the Council of the Baltic Sea States, the Nordic Council of Ministers; Research Council of Sweden, government departments and sectoral ministries, such as the Finnish Ministry of Education and Culture; regional development agencies, such as the Latvian Investment and Development.
She holds a PhD from the University of Cambridge; Certificate in Medical Innovation form the University of Oxford; MPhil from the University of Cambridge; Master's and BA (Honours) from Vilnius University in Lithuania. Originally from Lithuania, Jelena has worked in numerous countries around Europe, has spent 13 years in the UK and since 2013 has been residing in Sweden.
What's missing and where could NGI do better? 🤔
Join the discussion on the next steps of the #NextGenerationInternet initiative.

#Haveyoursay on the main themes and take part in the @EU_Commission open workshop on 📅 18 November at 9:00 CET.
More ℹ️ https://bit.ly/3C1pUu2
Twitter feed video.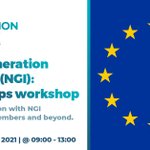 Nice to see the results of our @RI_PATHS project in action #measures #impact #SSHA21
"The path from input to impact is a very complex one"
- Johan Hanssens, @Departement_EWI #SSHA21
Twitter feed video.