Christine Neve is Operations and Finance Manager at EFIS Centre and has more than 10 years of experience in administrative, financial, and project management functions, including the development of a financial and operational strategy, projects budget monitoring/reporting/audits (coping with EU procedures) and Framework contracts management.
She was the Network Administrator of Erawatch Network ASBL from 2007-2014. This, not-for-profit organisation, represented a consortium of over 40 partners (a mix of academic researchers and private sector consultants) worldwide (with partners in all EU countries, neighbourhood countries, OECD countries and Latin America). It was created to manage a major Framework Contract (for a total amount of €10 million) with DG JRC of the European Commission. Thanks to the successful management of the first four year contract, the ERAWATCH network was awarded a second 4-year contract also for a total amount of €10m.  The contracts were managed through a series of specific contracts awarded through calls for proposals.
During her time at Technopolis Group (2007-16), Christine also managed several EC-funded Framework contracts, mainly on behalf of DG Enterprise/Growth, DG Research and DG Environment. She was in charge of the contracts and sub-contract management, communication work-packages, administrative and financial management/reporting and meeting organisation. Hence, she has acquired an excellent knowledge on EU procedures, from public procurements to financial report coordination of contracts.  This includes financial reporting under the Research Framework Programme
What's missing and where could NGI do better? 🤔
Join the discussion on the next steps of the #NextGenerationInternet initiative.

#Haveyoursay on the main themes and take part in the @EU_Commission open workshop on 📅 18 November at 9:00 CET.
More ℹ️ https://bit.ly/3C1pUu2
Twitter feed video.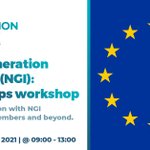 Nice to see the results of our @RI_PATHS project in action #measures #impact #SSHA21
"The path from input to impact is a very complex one"
- Johan Hanssens, @Departement_EWI #SSHA21
Twitter feed video.