The aim of the RI-PATHS project is to develop a model describing the socio-economic impact of research infrastructures and their related financial investments. The model will be developed in a modular manner adapting it to a broad range of scientific domains and types of infrastructures. The project outcomes are expected to contribute to a common approach at international level and facilitate investments in research infrastructures by funding agencies and other stakeholders. The project activities will take into account the results from the Working Group of Socio-Economic Impact of Research Infrastructures established by the OECD Global Science Forum, and involve key international players in this domain.
The specific objectives are:
Carry out a comprehensive stocktaking exercise on the existing approaches for impact assessment of research infrastructures and map the current and future data gathering needs of the key stakeholder groups;
Employing systems thinking approach develop a modular impact assessment model that represents all major impact pathways of distinct types of research infrastructures;
Operationalisation of the IA model by defining a set of reference indicators, providing guidance on the most appropriate monitoring and evaluation approaches and testing its feasibility with pilot research infrastructures.
EFIS Centre is the coordinator of this Horizon 2020 project. We will lead the co-design phase by charting impact pathways and collaboratively with research infrastructures, policy makers, funders and other relevant stakeholders formulating a theory how investments in research infrastructures lead to various socio-economic effects.
Who's NGI?
Here's @CASPER_NGITRUST
Protecting children on-line
More vital than ever now children stay home and study remotely with #coronavirus
Aleksandar Jevremovic shares his motivation for this @NgiTrust project
https://buff.ly/39jbN4h
@DSMeu @EU_H2020
Twitter feed video.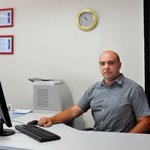 Privacy and Trust in a time of crisis. "One of the problems we face in working out where we stand on surveillance is that none of us know exactly how we are being surveilled, and what the coming years might bring". 1/2
Find out more about @CASPER_NGITRUST, funded by us as part of @NGI4eu and mentored by @jurkynaite @GEANTnews in this great new blog post: https://www.ngi.eu/news/2020/03/27/whos-ngi-aleksandar-jevremovic-introduces-caspar-to-protect-children-online/. Safety of children online is such an important topic right now, thanks to CASPER for your work!