Vladimir has almost 20 years of experience in academia, private and non-governmental sector, covering topics from economic growth and development to industrial and innovation policy and green economy. As an expert he worked for the European Commission (TAIEX), Friedrich Ebert Foundation, Institute for Political Ecology, CEE Bankwatch Network, on several European and national projects and as an evaluator for the COST programme. Vladimir co-founded a think tank focusing on green and progressive issues. He has been involved in public debates on issues such as economic growth and development, degrowth, industrial and innovation policy (smart specialisation), as an author for Green European Journal, as speaker or moderator at events at the European Economic and Social Committee, European Parliament, international Green Academy and other.
Vladimir is skilled at both qualitative and quantitative (statistical) research and adept at designing research methodology. His recent work includes finding and testing structural indicators that explain innovation performance, exploring impact pathways of research and innovation policy (both for the European Innovation Scoreboard project), research on governance of smart specialisation policies (Online S3 H2020 project) and devising a framework for socio-economic impact assessment of research infrastructures (RI-PATHS H2020).
Vladimir holds a doctorate from The Faculty of Economics and Business Administration of the Goethe University Frankfurt am Main, with financing of innovations being the main topic of his dissertation. He received his M.Sc. in Economics and a Diploma in Economics from University of Zagreb. In addition to his mother tongue Croatian he is fluent in English, German, French, and excellently understands Slovenian and Macedonian. Vladimir's research has been published in peer-reviewed journals and as book chapters. He has been one of the general editors of the book series 'Socio-Economic Perspectives in South-Eastern Europe' with The Peter Lang Publishing Group and an author at Makroskop, magazine on economics and politics in German. A selection of his publications is available at www.researchgate.net/profile/Vladimir_Cvijanovic.
Nous sommes à la recherche de vos idées 💡 innovantes pour contribuer à une transition économique, environnementale et sociale de la Wallonie !

#smartspecialisation @EcoWal @S3Platform @EUinmyRegion

http://economie.wallonie.be/content/s3wallonne-retour-sur-linnovation-camp-des-9-10-juillet-vos-contributions-sont-les
Twitter feed video.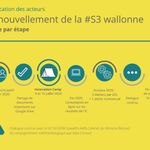 Full article: Stakeholder engagement through entrepreneurial discovery? Lessons from countries and regions in Central and Eastern Europe

Co-authored by @thegreenplace @contingencynews @vladoczg Orsolya Gulyás & Henry Varga
https://www.tandfonline.com/doi/full/10.1080/23311886.2020.1794273?scroll=top&needAccess=true#metrics-content
What research infrastructures #RIs have learned about their impact and impact study requirements? Join the webinar to find out more! 👇 https://twitter.com/RI_PATHS/status/1275397586111926272