Vladimir has more than 15 years of experience in academia, private and non-governmental sector. With a background in academic teaching and research, he has also worked as a consultant and expert. There are three broad groups of topics that his work has covered: economic growth and development, industrial and innovation policy and green economy. As an expert he worked for Friedrich Ebert Foundation, Institute for Political Ecology, CEE Bankwatch Network and on several European and national projects. Vladimir's research has been published in peer-reviewed journals and as book chapters.
Vladimir co-founded a think tank focusing on green and progressive issues. He has been involved in public debates on issues such as degrowth, tax injustice, Sustainable Development Goals, energy poverty, as an author for Green European Journal, as speaker or moderator at events at the European Economic and Social Committee, European Parliament, international Green Academy and other.
On account of his engagement as an Alternate at the European Economic and Social Committee he is familiar with the EU institutions and EU policy. As one of the general editors of the book series 'Socio-Economic Perspectives in South-Eastern Europe' with The Peter Lang Publishing Group and as an author at Makroskop, magazine on economics and politics in German, he has focused on South East Europe.
Vladimir is skilled at various data collection methods, from development of methodology to designing surveys and interviewing. He is familiar with qualitative (case study method) and quantitative (statistical) analysis and is used to working with a wide range of socio-economic indicators. He was an evaluator for the COST programme.
Vladimir holds a doctorate from The Faculty of Economics and Business Administration of the Goethe University Frankfurt am Main. Financing of innovations was the main topic of his dissertation. He received his M.Sc. in Economics and a Diploma in Economics from University of Zagreb. He is fluent in English, German, French, in addition to his mother tongue Croatian and an understanding of Slovenian.
Happy Valentines Day !

The team at @SilversquareEU are spoiling us today 🥰
Twitter feed video.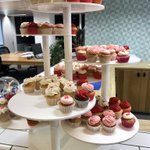 Thank you to the @EoscPortal team for featuing the @NgiTrust call on their funding opportunities page - https://t.co/93Rx7DQnVP #privacy #trust @NGI4eu