Researcher – policy advisor
Orsolya Gulyás is a researcher focusing on issues at the intersection of technology and society. She combines broad academic backgrounds in the humanities and social sciences. She earned a research MA in Media Studies from the University of Amsterdam and an MA in Public Policy from Central European University.
Drawing on her expertise in communication science, she recently conducted a study at the European Commission's Joint Research Center where she critically analyzed the language use in 30 years of EU policy documents.
As a Blue Book trainee at DG Connect in the office of the Advisor on Societal Issues, she was involved in the mainstreaming of responsible research and innovation across the ICT-related parts of Horizon 2020. She conducted the ex-post monitoring of the outcome of the 2014 grant calls in order to better understand the specifics of addressing responsible research and innovation and the involvement of social sciences and humanities in H2020 grant proposals. She also supported the development of a novel type of funding in H2020, which aim to better integrate social sciences and humanities expertise in ICT innovation. Furthermore, she was involved in the follow-up activities relating to the Onlife Initiative. Since 2015 she regularly takes part in the evaluation and review of Horizon 2020 grant proposals in the ICTs and society domain.
Previously she worked as a researcher at the Media Intelligence Service, the research and analysis department of the European Broadcasting Union. She was in charge of creating and annually updating 40 European country profiles, which allowed her to develop a deep knowledge and understanding of the European media landscape. She produced reports on diverse topics, such as the media's role in society, trust in media, or the relationship of public service media and social and political development.
As a researcher at the Center for Media, Data, and Society based at the School of Public Policy of Central European University, she has dealt with EU digital policy, in particular with data protection and media policy.
She is familiar with a wide range of qualitative, quantitative, and computational research methods. Next to her native Hungarian, she speaks fluent English, has a working knowledge of German, and has been working on improving her French.
Nous sommes à la recherche de vos idées 💡 innovantes pour contribuer à une transition économique, environnementale et sociale de la Wallonie !

#smartspecialisation @EcoWal @S3Platform @EUinmyRegion

http://economie.wallonie.be/content/s3wallonne-retour-sur-linnovation-camp-des-9-10-juillet-vos-contributions-sont-les
Twitter feed video.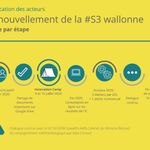 Full article: Stakeholder engagement through entrepreneurial discovery? Lessons from countries and regions in Central and Eastern Europe

Co-authored by @thegreenplace @contingencynews @vladoczg Orsolya Gulyás & Henry Varga
https://www.tandfonline.com/doi/full/10.1080/23311886.2020.1794273?scroll=top&needAccess=true#metrics-content
What research infrastructures #RIs have learned about their impact and impact study requirements? Join the webinar to find out more! 👇 https://twitter.com/RI_PATHS/status/1275397586111926272