Nina Gorovaia holds a PhD in Social and Economic Sciences from Vienna University of Economics and Business Administration, Bachelor's and Master's degrees with honors from Moscow State University. She is Assistant Professor of Business Administration at the School of Economic Sciences and Administration at Frederick University in Cyprus and holds a Visiting Professor position at the University of Vienna.
Nina's research interests include inter-organizational networks, franchising, clusters, knowledge management, contractual and relational governance, corporate social responsibility. She published in international refereed journals like Managerial and Decision Economics, Service Industries Journal, Journal of Management and Governance, Journal of Process and Knowledge Management, Global Business and Economics review. Nina has experience of work in international research projects and received two Ernst Mach post-doctoral scholarships from the Austrian Exchange Service and numerous grants from Leonardo da Vinci and Erasmus programs.
📢Do you offer #ResearchInfrastructures services relevant to #COVID__19 research?
Inform the #research #community by joining @project_catris portal today ‼️
See how you can collaborate 👉http://bit.ly/3eaeNTU
Twitter feed video.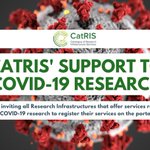 FAQs for the third open call are now online https://wiki.geant.org/display/NGITrust/2020/04/28/Frequently+asked+questions+%28FAQs%29+for+the+3rd+Open+Call
@GEANTnews @EfisCentre @KantaraNews @tecnalia
@fraunhoferiao @NGI4eu #innovation #NGI #AI #digital #Covid19 #NextGenerationInternet
We are still accepting submissions: https://wiki.geant.org/display/NGITrust/3rd+Open+Call+NGI_TRUST. We look forward to your innovative ideas on projects in privacy, trust, identity and security @GEANTnews
@EfisCentre @KantaraNews @tecnalia @fraunhoferiao