Nina Gorovaia holds a PhD in Social and Economic Sciences from Vienna University of Economics and Business Administration, Bachelor's and Master's degrees with honors from Moscow State University. She is Assistant Professor of Business Administration at the School of Economic Sciences and Administration at Frederick University in Cyprus and holds a Visiting Professor position at the University of Vienna.
Nina's research interests include inter-organizational networks, franchising, clusters, knowledge management, contractual and relational governance, corporate social responsibility. She published in international refereed journals like Managerial and Decision Economics, Service Industries Journal, Journal of Management and Governance, Journal of Process and Knowledge Management, Global Business and Economics review. Nina has experience of work in international research projects and received two Ernst Mach post-doctoral scholarships from the Austrian Exchange Service and numerous grants from Leonardo da Vinci and Erasmus programs.
Nous sommes à la recherche de vos idées 💡 innovantes pour contribuer à une transition économique, environnementale et sociale de la Wallonie !

#smartspecialisation @EcoWal @S3Platform @EUinmyRegion

http://economie.wallonie.be/content/s3wallonne-retour-sur-linnovation-camp-des-9-10-juillet-vos-contributions-sont-les
Twitter feed video.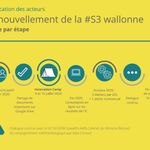 Full article: Stakeholder engagement through entrepreneurial discovery? Lessons from countries and regions in Central and Eastern Europe

Co-authored by @thegreenplace @contingencynews @vladoczg Orsolya Gulyás & Henry Varga
https://www.tandfonline.com/doi/full/10.1080/23311886.2020.1794273?scroll=top&needAccess=true#metrics-content
What research infrastructures #RIs have learned about their impact and impact study requirements? Join the webinar to find out more! 👇 https://twitter.com/RI_PATHS/status/1275397586111926272