Nina Gorovaia holds a PhD in Social and Economic Sciences from Vienna University of Economics and Business Administration, Bachelor's and Master's degrees with honors from Moscow State University. She is Assistant Professor of Business Administration at the School of Economic Sciences and Administration at Frederick University in Cyprus and holds a Visiting Professor position at the University of Vienna.
Nina's research interests include inter-organizational networks, franchising, clusters, knowledge management, contractual and relational governance, corporate social responsibility. She published in international refereed journals like Managerial and Decision Economics, Service Industries Journal, Journal of Management and Governance, Journal of Process and Knowledge Management, Global Business and Economics review. Nina has experience of work in international research projects and received two Ernst Mach post-doctoral scholarships from the Austrian Exchange Service and numerous grants from Leonardo da Vinci and Erasmus programs.
At the #FCCweek2019, @RIPATHS' project coordinator @thegreenplace presents the process of designing an IA framework for research infrastructures
Follow @CERN's Livestream https://t.co/eIzebNUFzc
@EfisCentre
Twitter feed video.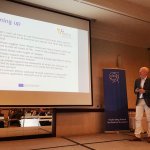 Our project coordinator @thegreenplace will be talking at 10:30 🕥 about the process of designing an IA framework for research infrastructures - follow the livestream @RI_PATHS @CERN https://t.co/aLUzhiFuAM
Economics of science workshop at @CERN Future Circular Collider week. Opening introduction by Johannes Gutleber underlining, by quoting @MazzucatoM, that research infrastructures need to understand how they create value for the European economy and society.