Carmela Asero has more than 10 years' experience in the area of Research Infrastructures, Open Science and Digital Single Market policies and programmes. She is currently managing the EOSC Enhance project for EFIS Centre.
Within the European Open Science Cloud team at the European Commission's DG RTD in 2016-2017, Carmela had a key role in shaping the European Open Science Cloud and in the definition of the implementing actions in support of the EOSC governance. Previously she held the role of policy analyst for Digital Single Market and Space Policy at  the European Commission's Joint Research Centre.
Carmela holds a unique set of expertise in digital agenda policies with  special focus on cloud and big data. Between 2008 and 2011, she was scientific project officer at the European Commission's DG Connect in the e-Infrastructures unit where she managed a large number of project in different scientific domains. Carmela has been working in the area of policy, strategy and implementing activities in different EU projects on cloud computing (alongside organizations such as CERN, Cloud Security Alliance, EMBL and The EGI Foundation) and in  other ICT domains like digital media and telecommunications. She holds an BA Hons in Economics, an MA in Diplomatic  Studies and a MSc in e-Business. She is fluent in Italian, English and French and basic user in Spanish and Japanese.
#ResearchInfrastructures is a backbone for research and helping to address societal challenges but more coordination is needed. Well said @kangelieva and @JohnWomersley
The European Research and Innovations Days 2020 take off tomorrow 👏🏽Don't miss the chance to join the debate on the future research and innovation landscape!

Use the #RiDaysEU hashtag to join the discussion.
Learn more about how to participate
➡️https://research-innovation-days.ec.europa.eu/how
Twitter feed video.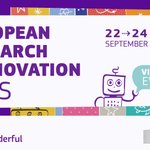 Proud to release joint paper with @ESFRI_eu Clusters & Eu #eInfras suggesting to re-orient #EOSC roadmap towards its #research communities.

🔗➡️https://bit.ly/3cjsAXT

4 key points:
🔹Research-oriented services
🔹Trust based #openaccess
🔹Collaboration support
🔹Sustainability
Twitter feed video.