Dr. Bernard Musyck is the managing director of the EFIS Centre ASBL. He is a Regional Economist and holds a PhD in economics from the University of Sussex (United Kingdom) and a Master's degree in the same field from the Université Catholique de Louvain (Belgium). He is also Associate Professor at the School of Economic Sciences and Administration, Frederick University, Nicosia, Cyprus.
Bernard has more than 15 years experience in academia and consultancy work on regional development and innovation across Europe. He has participated in a range of advisory projects including regional innovation strategies, evaluations of Structural Fund programmes and the monitoring of innovation policy frameworks. In Cyprus, he has been involved in projects in the field of tourism and innovation policies, including the latest initiatives concerning smart specialisation strategies. Bernard is fluent in English, French, Dutch and German and can converse in Greek.
Nous sommes à la recherche de vos idées 💡 innovantes pour contribuer à une transition économique, environnementale et sociale de la Wallonie !

#smartspecialisation @EcoWal @S3Platform @EUinmyRegion

http://economie.wallonie.be/content/s3wallonne-retour-sur-linnovation-camp-des-9-10-juillet-vos-contributions-sont-les
Twitter feed video.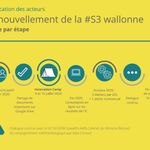 Full article: Stakeholder engagement through entrepreneurial discovery? Lessons from countries and regions in Central and Eastern Europe

Co-authored by @thegreenplace @contingencynews @vladoczg Orsolya Gulyás & Henry Varga
https://www.tandfonline.com/doi/full/10.1080/23311886.2020.1794273?scroll=top&needAccess=true#metrics-content
What research infrastructures #RIs have learned about their impact and impact study requirements? Join the webinar to find out more! 👇 https://twitter.com/RI_PATHS/status/1275397586111926272