Dr. Bernard Musyck is the managing director of the EFIS Centre ASBL. He is a Regional Economist and holds a PhD in economics from the University of Sussex (United Kingdom) and a Master's degree in the same field from the Université Catholique de Louvain (Belgium). He is also Associate Professor at the School of Economic Sciences and Administration, Frederick University, Nicosia, Cyprus.
Bernard has more than 15 years experience in academia and consultancy work on regional development and innovation across Europe. He has participated in a range of advisory projects including regional innovation strategies, evaluations of Structural Fund programmes and the monitoring of innovation policy frameworks. In Cyprus, he has been involved in projects in the field of tourism and innovation policies, including the latest initiatives concerning smart specialisation strategies. Bernard is fluent in English, French, Dutch and German and can converse in Greek.
At the #FCCweek2019, @RIPATHS' project coordinator @thegreenplace presents the process of designing an IA framework for research infrastructures
Follow @CERN's Livestream https://t.co/eIzebNUFzc
@EfisCentre
Twitter feed video.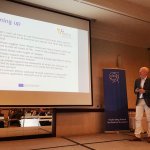 Our project coordinator @thegreenplace will be talking at 10:30 🕥 about the process of designing an IA framework for research infrastructures - follow the livestream @RI_PATHS @CERN https://t.co/aLUzhiFuAM
Economics of science workshop at @CERN Future Circular Collider week. Opening introduction by Johannes Gutleber underlining, by quoting @MazzucatoM, that research infrastructures need to understand how they create value for the European economy and society.