Alison Hunter is a Director and joint owner of a consultancy business – Economic and Public Policy Consultancy (EPPC). Based in Brussels for the last 10 years, she has over 17 years of consultancy experience, delivering public policy, research and analysis assignments for clients in Brussels and UK settings. Alison's areas of expertise are EU regional policy (including regional innovation and Smart Specialisation), economic development, clusters and industrial growth. She is an experienced moderator, working with EU institutional partners and regional stakeholders, and covering event design, delivery and reporting. Alison also delivers senior capacity building support and advice on EU engagement to multiple stakeholders, and has significant experience is developing large-scale projects.
Alison is highly experienced in working with EU institutions, including a range of Commission services in the areas of Regional Policy, Research & Innovation and Maritime Affairs & Fisheries. She is also a Senior Adviser with a leading Brussels think-tank, the European Policy Centre, focusing on regional, innovation and industrial policy.
Nous sommes à la recherche de vos idées 💡 innovantes pour contribuer à une transition économique, environnementale et sociale de la Wallonie !

#smartspecialisation @EcoWal @S3Platform @EUinmyRegion

http://economie.wallonie.be/content/s3wallonne-retour-sur-linnovation-camp-des-9-10-juillet-vos-contributions-sont-les
Twitter feed video.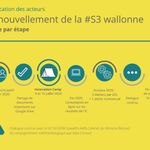 Full article: Stakeholder engagement through entrepreneurial discovery? Lessons from countries and regions in Central and Eastern Europe

Co-authored by @thegreenplace @contingencynews @vladoczg Orsolya Gulyás & Henry Varga
https://www.tandfonline.com/doi/full/10.1080/23311886.2020.1794273?scroll=top&needAccess=true#metrics-content
What research infrastructures #RIs have learned about their impact and impact study requirements? Join the webinar to find out more! 👇 https://twitter.com/RI_PATHS/status/1275397586111926272