Dr. Bernard Musyck
Managing Director
EFIS
Alison Hunter
Board Member
EFIS
Alessandro Muscio
Board Member
EFIS
Full-time researcher
Competitive salary and flexible working conditions
–
The European Future Innovation System Centre is a policy think tank and research centre located in the university town of Louvain-la-Neuve with an office in the European Quarter of Brussels.
We welcome interest from qualified individuals to join our team as staff researchers or associate researchers (working with us on a project basis or in developing specific lines of research).
Candidates should have at least a Master degree (holders of a PhD or individuals currently undertaking doctoral studies will be given a preference) in regional development, science and technology and innovation studies or related fields. Three to five years of work experience in the fields of innovation policy, smart specialisation, open science, etc. will be a plus; as will skills and experience in quantitative methods and online data collection and visualisation tools.  Fluency in English is a minimum requirement, additional languages are a plus.
The Centre is an equal opportunities employer and is open to flexible working arrangements. Candidates for staff researchers should be EU citizens or eligible for a work visa in a EU Member State.
Candidates may submit an up to date CV (Europass format preferably) and motivation letter to 
info@efiscentre.eu
.
–
Who's NGI?
Here's @CASPER_NGITRUST
Protecting children on-line
More vital than ever now children stay home and study remotely with #coronavirus
Aleksandar Jevremovic shares his motivation for this @NgiTrust project
https://buff.ly/39jbN4h
@DSMeu @EU_H2020
Twitter feed video.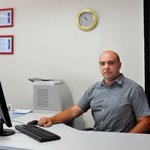 Privacy and Trust in a time of crisis. "One of the problems we face in working out where we stand on surveillance is that none of us know exactly how we are being surveilled, and what the coming years might bring". 1/2
Find out more about @CASPER_NGITRUST, funded by us as part of @NGI4eu and mentored by @jurkynaite @GEANTnews in this great new blog post: https://www.ngi.eu/news/2020/03/27/whos-ngi-aleksandar-jevremovic-introduces-caspar-to-protect-children-online/. Safety of children online is such an important topic right now, thanks to CASPER for your work!