Future innovation systems
–
We support partnerships of governmental, societal (not for profit) and business organisations working to identify future technology and societal trends that are likely to challenge the way our economies and societies function.
Nous sommes à la recherche de vos idées 💡 innovantes pour contribuer à une transition économique, environnementale et sociale de la Wallonie !

#smartspecialisation @EcoWal @S3Platform @EUinmyRegion

http://economie.wallonie.be/content/s3wallonne-retour-sur-linnovation-camp-des-9-10-juillet-vos-contributions-sont-les
Twitter feed video.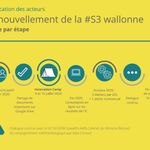 Full article: Stakeholder engagement through entrepreneurial discovery? Lessons from countries and regions in Central and Eastern Europe

Co-authored by @thegreenplace @contingencynews @vladoczg Orsolya Gulyás & Henry Varga
https://www.tandfonline.com/doi/full/10.1080/23311886.2020.1794273?scroll=top&needAccess=true#metrics-content
What research infrastructures #RIs have learned about their impact and impact study requirements? Join the webinar to find out more! 👇 https://twitter.com/RI_PATHS/status/1275397586111926272