Charting a course for innovation systems
–
We seek to improve the understanding of how innovation happens in our economy and society and how it can help enhance quality of life while avoiding undue pressure on finite natural resources and ecosystems that sustain life.
📢Do you offer #ResearchInfrastructures services relevant to #COVID__19 research?
Inform the #research #community by joining @project_catris portal today ‼️
See how you can collaborate 👉http://bit.ly/3eaeNTU
Twitter feed video.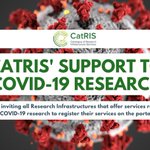 FAQs for the third open call are now online https://wiki.geant.org/display/NGITrust/2020/04/28/Frequently+asked+questions+%28FAQs%29+for+the+3rd+Open+Call
@GEANTnews @EfisCentre @KantaraNews @tecnalia
@fraunhoferiao @NGI4eu #innovation #NGI #AI #digital #Covid19 #NextGenerationInternet
We are still accepting submissions: https://wiki.geant.org/display/NGITrust/3rd+Open+Call+NGI_TRUST. We look forward to your innovative ideas on projects in privacy, trust, identity and security @GEANTnews
@EfisCentre @KantaraNews @tecnalia @fraunhoferiao