Charting a course for innovation systems
–
We seek to improve the understanding of how innovation happens in our economy and society and how it can help enhance quality of life while avoiding undue pressure on finite natural resources and ecosystems that sustain life.
Happy Valentines Day !

The team at @SilversquareEU are spoiling us today 🥰
Twitter feed video.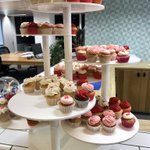 Thank you to the @EoscPortal team for featuing the @NgiTrust call on their funding opportunities page - https://t.co/93Rx7DQnVP #privacy #trust @NGI4eu