Building digital innovation systems
–
We work with a range of partners to develop digital platforms and apps that support the inter-connection and performance of organisations in European, national, regional and sectoral innovation systems.
📢Do you offer #ResearchInfrastructures services relevant to #COVID__19 research?
Inform the #research #community by joining @project_catris portal today ‼️
See how you can collaborate 👉http://bit.ly/3eaeNTU
Twitter feed video.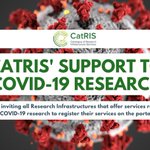 FAQs for the third open call are now online https://wiki.geant.org/display/NGITrust/2020/04/28/Frequently+asked+questions+%28FAQs%29+for+the+3rd+Open+Call
@GEANTnews @EfisCentre @KantaraNews @tecnalia
@fraunhoferiao @NGI4eu #innovation #NGI #AI #digital #Covid19 #NextGenerationInternet
We are still accepting submissions: https://wiki.geant.org/display/NGITrust/3rd+Open+Call+NGI_TRUST. We look forward to your innovative ideas on projects in privacy, trust, identity and security @GEANTnews
@EfisCentre @KantaraNews @tecnalia @fraunhoferiao