Building digital innovation systems
–
We work with a range of partners to develop digital platforms and apps that support the inter-connection and performance of organisations in European, national, regional and sectoral innovation systems.
Nous sommes à la recherche de vos idées 💡 innovantes pour contribuer à une transition économique, environnementale et sociale de la Wallonie !

#smartspecialisation @EcoWal @S3Platform @EUinmyRegion

http://economie.wallonie.be/content/s3wallonne-retour-sur-linnovation-camp-des-9-10-juillet-vos-contributions-sont-les
Twitter feed video.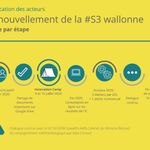 Full article: Stakeholder engagement through entrepreneurial discovery? Lessons from countries and regions in Central and Eastern Europe

Co-authored by @thegreenplace @contingencynews @vladoczg Orsolya Gulyás & Henry Varga
https://www.tandfonline.com/doi/full/10.1080/23311886.2020.1794273?scroll=top&needAccess=true#metrics-content
What research infrastructures #RIs have learned about their impact and impact study requirements? Join the webinar to find out more! 👇 https://twitter.com/RI_PATHS/status/1275397586111926272