Dr Jelena Angelis, formerly (until August 2017) Deputy Director of Technopolis Group Baltics and from 1 Sept 2017 Research Director at the European Future Innovation System (EFIS) Centre, is a qualified economist with a Master's degree from Vilnius University in Lithuania and a PhD from the University of Cambridge in the UK. She has worked in the field of evaluation and policy formation since early 2002 and prior to that spent a couple of years in business development roles in the financial services and manufacturing sectors.
Over the years Jelena has been involved in evaluations, impact assessments and studies of programmes and measures linked to Research Infrastructures (ranging in size, relevance, and thematic application), such a study on synergies between Max IV and ESS facilities in Sweden; comparative study to assess the impact of the European Social Survey; impact assessment of ISIS facility; evaluation of the ISIS Facility in the UK; Evaluation of Pertinence and Impact of Research Infrastructure Activity in FP7; and a 3.5-year-long project in Lithuania ensuring that the EU SF-funded research infrastructure is acquired, installed and utilised on an open access principle.
Jelena has international project experience, having worked on projects for such clients as the International Finance Corporation, OECD, European Commission, the Council of the Baltic Sea States, the Nordic Council of Ministers; Research Council of Sweden, government departments and sectoral ministries, such as the Finnish Ministry of Education and Culture; regional development agencies, such as the Latvian Investment and Development Agency; universities in Western and Eastern Europe; and private companies.
Originally from Lithuania, Jelena has worked in numerous countries around Europe, has spent 13 years in the UK and since 2013 has been residing in Sweden.
Happy Valentines Day !

The team at @SilversquareEU are spoiling us today 🥰
Twitter feed video.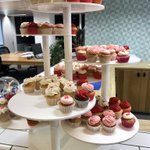 Thank you to the @EoscPortal team for featuing the @NgiTrust call on their funding opportunities page - https://t.co/93Rx7DQnVP #privacy #trust @NGI4eu