Who's NGI?
Here's @CASPER_NGITRUST
Protecting children on-line
More vital than ever now children stay home and study remotely with #coronavirus
Aleksandar Jevremovic shares his motivation for this @NgiTrust project
https://buff.ly/39jbN4h
@DSMeu @EU_H2020
Twitter feed video.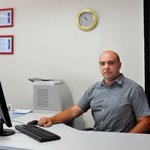 Privacy and Trust in a time of crisis. "One of the problems we face in working out where we stand on surveillance is that none of us know exactly how we are being surveilled, and what the coming years might bring". 1/2
Find out more about @CASPER_NGITRUST, funded by us as part of @NGI4eu and mentored by @jurkynaite @GEANTnews in this great new blog post: https://www.ngi.eu/news/2020/03/27/whos-ngi-aleksandar-jevremovic-introduces-caspar-to-protect-children-online/. Safety of children online is such an important topic right now, thanks to CASPER for your work!