About
Gaelle de Meeus
This author has yet to write their bio.Meanwhile lets just say that we are proud Gaelle de Meeus contributed a whooping 21 entries.
Entries by Gaelle de Meeus
What research infrastructures #RIs have learned about their impact and impact study requirements? Join the webinar to find out more! 👇 https://twitter.com/RI_PATHS/status/1275397586111926272
2nd webinar to present & discuss the results of @RI_PATHS - great discussion with perspectives from @ESFRI_eu - @OECD @InnovationCA

3rd webinar on Monday 29th will feature presentations of pilot impact assessments carried out at @CERN @desy @ALBAsynchrotron & @ELIXIREurope
Twitter feed video.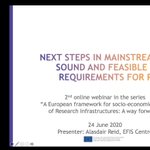 Delighted to be working with @rccint in driving this process forward