At EFIS Centre, we "practice what we preach" about open innovation systems. We actively welcome new applications for membership from individual scholars and practitioners and like-minded organisations working on all aspects of innovation systems and related fields. EFIS Centre members are invited to co-develop ideas for new strands of research on or testing of new instruments to enhance innovation system performance.
Applications from students or individuals should include a recent CV and a summary of interests in innovation systems research or policy.
Applications from organisations should include a half-page summary of the mission and recent activities and a list of up to five recent projects or initiatives relevant to the EFIS Centre mission. At least two CVs of staff members should be provided, one of whom should be designated as the representative contact point.
Applications can be sent at any time by email to info@efiscentre.eu.
Annual membership fees for 2018 are:
• €75 for students (Masters or doctoral studies)
• €150 for individual membership
• €500 for corporate/institutional members
Members receive our quarterly e-newsletter 'System thinking' including a review of recent developments in innovation system research and policy; as well as preferential rates for our 'Innovation System Insights' workshop series that will launch in the first semester 2018.
#ResearchInfrastructures is a backbone for research and helping to address societal challenges but more coordination is needed. Well said @kangelieva and @JohnWomersley
The European Research and Innovations Days 2020 take off tomorrow 👏🏽Don't miss the chance to join the debate on the future research and innovation landscape!

Use the #RiDaysEU hashtag to join the discussion.
Learn more about how to participate
➡️https://research-innovation-days.ec.europa.eu/how
Twitter feed video.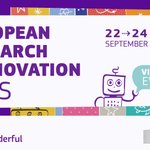 Proud to release joint paper with @ESFRI_eu Clusters & Eu #eInfras suggesting to re-orient #EOSC roadmap towards its #research communities.

🔗➡️https://bit.ly/3cjsAXT

4 key points:
🔹Research-oriented services
🔹Trust based #openaccess
🔹Collaboration support
🔹Sustainability
Twitter feed video.